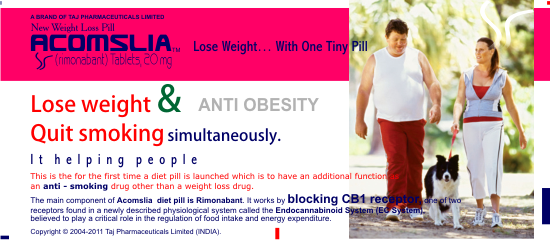 Home
>>
Products
>>
Brands
>> Acomslia

Acomslia
(Rimonabant 20 mg tablets)
Acomslia is a diet pill and it considered as an experimental pill that offers the promise of helping people lose weight and quit smoking simultaneously.

This is the for the first time a diet pill is launched which is to have an additional function as an antismoking drug other than a weight loss drug.

The main component of Acomslia  diet pill is Rimonabant. It works by blocking CB1 receptor, one of two receptors found in a newly described physiological system called the Endocannabinoid System (EC System), believed to play a critical role in the regulation of food intake and energy expenditure.

This anti smoking diet pill is aimed at blocking the CB1 receptors of the brain commonly called the 'pleasure centre' of the brain and interfering with the cycle of craving and satisfaction thus making hunger or cigarette pangs more manageable.

These receptors are present not only in the hypothalamus region of the brain, but also throughout the body, notably in fat cells-- which are involved in lipid and glucose metabolism. They work by reducing dependence on tobacco, suppressing appetite and restoring the balance in the system. Some analysts have also started considering Acomslia  Rimonabant as a heart drug. Its medicinal implications on major cardiovascular risk factors – smoking and obesity can be considered a major medical advance for patients at risk of heart disease.

How to use
* Acomslia  should be taken only on consultation with a doctor to guard against possible side effects and probable drug interactions.
* Acomslia  is used complementary to diet and exercise to treat obese or overweight patients who suffer from Type 2 diabetes and abnormal levels of fat in the blood.
* The manufacturer of Acomslia  is urging for the recommendation to allow the diet pill to be used as a long term drug, since initial reports have indicated a regain of the lost weight after the use of Acomslia  is stopped.
* Patients with large waist circumference (102 cm in men and 88 cm in women) will mostly benefit from taking the drug.
* Obese patients treated for one year on the highest dose of 20 mg per day shed an average of 19 pounds and lost 3.5 inches of waistline, researchers showed, while 39 percent lost more than one-10th of their body weight.
Side Effects
The initial adjustment: As your body adjusts to the medication, you may experience some of the reported side effects like anxiety, vomiting, disorientation, insomnia, nausea, palpitations, headache, hallucinations, acute high blood pressure, heart and kidney damage, abnormal heart rhythm, heart attack, strokes, psychosis, a rebound effect of fatigue and hyperphagia, gastrointestinal discomfort and dizziness.

What to avoid: Acomslia  may cause dizziness, and mood disorders. Therefore, use caution when driving, operating machinery, or performing other hazardous activities.

Consult a doctor: Consult your doctor if these effects persist or you experience mood disorders related to depression and psychosis while taking Acomslia .

Drug interaction
* Consult your doctor and inform about all the prescription and nonprescription drugs you use.
* Since Acomslia  diet pills contain lactose, patients with rare hereditary problems of galactose intolerance, the Lapp lactase deficiency or glucose-galactose malabsorption, should not take this drug.
* Therapy with Acomslia  should not be initiated in patients with uncontrolled serious psychiatric illness such as a major depression.

Precautions
* It is advisable to consult a doctor before taking Acomslia  and adhere to the prescribed dosage to attain the expected results.
* Do not consume Rimonabant Acomslia  diet pill if you are allergic to any one of the ingredients.
* Acomslia  should not be taken by pregnant woman since it may cause birth defects in an unborn baby.
* Acomslia  should not also be used by lactating mothers. Though not clinically proved, there is possibility that this diet pill may be passed into breast milk. Therefore, consult your doctor for you may have to stop nursing or stop using this drug.
* Accomplia/Rimonabant is metabolized by the liver, thus caution is advised in patients with moderate hepatic impairment.

Dosage
* The usual recommended dose of Acomslia  by doctors is 20mg daily before breakfast.
* Acomslia  should be swallowed whole with a glass of water, and should not be chewed or crushed as it might contemplate side effects.
* In any case, Acomslia  diet pills are strictly advised to be used only under medical supervision so as to prevent probable drug interaction and possible side-effects.
* The dosage for the drug varies from person to person depending upon the body metabolism.

Overdose
In case of overdose, seek emergency medical attention immediately. Never take a double dose of this medication.

Missed dose
Take the missed dose as soon as you remember. However, if it is too late or almost time for your next dose, skip the missed dose and take only your next regularly scheduled dose.

Storage
Acomslia  diet pill should be stored at room temperature in a cool and dry place. Keep away from the reach of children.

Presentation
Acomslia  Tablets               Blister of 10 Tablets