Home
>>
Products
>>
Brands
>> Loravan
Loravan 
(lorazepam)
Each Loravan tablet contains 0.5 mg, 1 mg, or 2 mg of lorazepam.
The inactive ingredients present are lactose monohydrate, magnesium stearate, microcrystalline cellulose, polacriline potassium.
INDICATIONS
Loravan is indicated for the management of anxiety disorders or for the short-term relief of the symptoms of anxiety or anxiety associated with depressive symptoms. Anxiety or tension associated with the stress of everyday life usually does not require treatment with an anxiolytic.
DOSAGE AND ADMINISTRATION
Loravan is administered orally. For optimal results, dose, frequency of administration, and duration of therapy should be individualized according to patient response. To facilitate this, 0.5 mg, 1 mg, and 2 mg tablets are available.
The usual range is 2 to 6 mg/day given in divided doses, the largest dose being taken before bedtime, but the daily dosage may vary from 1 to 10 mg/day.
For anxiety, most patients require an initial dose of 2 to 3 mg/day given b.i.d. or t.i.d.
For insomnia due to anxiety or transient situational stress, a single daily dose of 2 to 4 mg may be given, usually at bedtime.
For elderly or debilitated patients, an initial dosage of 1 to 2 mg/day in divided doses is recommended, to be adjusted as needed and tolerated.
The dosage of Loravan should be increased gradually when needed to help avoid adverse effects. When higher dosage is indicated, the evening dose should be increased before the daytime doses.
Loravan Tablets (Lorazepam)
WARNINGS
Pre-existing depression may emerge or worsen during use of benzodiazepines including lorazepam. Loravan is not recommended for use in patients with a primary depressive disorder or psychosis.
Use of benzodiazepines, including lorazepam, both used alone and in combination with other CNS depressants, may lead to potentially fatal respiratory depression. (See PRECAUTIONS, Clinically Significant Drug Interactions)
Use of benzodiazepines, including lorazepam, may lead to physical and psychological dependence.
CONTRAINDICATIONS
Loravan is contraindicated in patients with
* hypersensitivity to benzodiazepines or to any components of the formulation.
* acute narrow-angle glaucoma.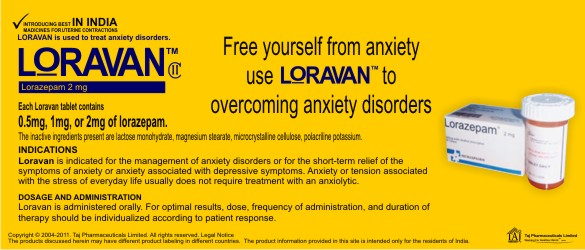 SIDE EFFECTS
Drowsiness, dizziness, loss of coordination, headache, nausea, blurred vision, change in sexual interest/ability, hair loss, constipation, heartburn, or change in appetite may occur. If any of these effects persist or worsen, notify your doctor or pharmacist promptly.
Remember that your doctor has prescribed this medication because he or she has judged that the benefit to you is greater than the risk of side effects. Many people using this medication do not have serious side effects.
STORAGE
Store at room temperature between 68-77 degrees F (20-25 degrees C) away from light and moisture. Do not store in the bathroom. Keep all medicines away from children
Presentation
Loravan Tablets Strip of 10 Tablets