Country profile:

Belgium





The pharmaceutical market in Belgium is projected to increase at a healthy CAGR over the forecast period, strengthened by an ageing population which will lead to a rise in pharmaceutical consumption levels. In particular, there will be a demand for new therapies to treat patients more efficiently. The generics market is also set to grow, as cost-containment measures are introduced and several major branded drugs come off patent.
Belgium's strength in R&D is visible in its flourishing biopharmaceutical sector, which is set to drive the market forward in the coming years.
For such a small country Belgium has been a major European battleground over the centuries.
Occupied by Germany during World Wars I and II it has experienced an economic boom in the last 50 years to become a model Western European liberal democracy.
However there has also been a growing divide between the mainly Dutch-speaking north and the mainly French-speaking south with some even speculating that the country could break up.
Overview
Brussels is the headquarters of the European Union and the North Atlantic Treaty Organisation (Nato). Thus it is the polyglot home of an army of international diplomats and civil servants.
The country stretches from the dunes of the northern coastline through the Flemish lowlands and on to the forests of the rolling Ardennes hills in the south.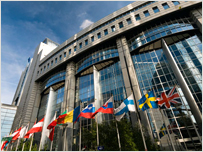 Country Focus on Belgium: Prospects Good as Belgium Loosens Red Tape
Belgium reconciles regional and cultural identities in a single federal structure.
The structure includes three communities - Flemish French and German-speaking - and three regions: Flanders in the north where the official language is Dutch; Wallonia in the south where French is the official tongue and Brussels the capital where French and Dutch share official language status. Wallonia has a 70000-strong German-speaking minority.
Tensions between the two main language communities sometimes run high and the right-wing Flemish nationalist party Vlaams Belang wants independence for the Flanders region. But opinion polls show that most Belgians want to maintain the federation.
Belgium also has a small colonial legacy in Africa: in Rwanda Burundi and the Democratic Republic of Congo - once Zaire.
It attracted international attention following the US-led war on Iraq in 2003 because of a controversial law allowing Belgian courts to try foreigners for war and human rights crimes regardless of where the crimes were committed. The law led to suits against numerous high-profile international figures before undergoing radical revision.
Belgium is noted for its strong culinary traditions and is particularly famous for its fine chocolate and array of beers.
Facts
Full name: Kingdom of Belgium
Population: 10.6 million (UN 2009)
Capital: Brussels
Area: 30528 sq km (11787 sq miles)
Major languages: Dutch (local variant called Flemish) French German
Major religion: Christianity
Life expectancy: 77 years (men) 83 years (women) (UN)
Monetary unit: 1 euro = 100 cents
Main exports: Machinery and electrical equipment chemicals vehicles metals diamonds
GNI per capita: US $44330 (World Bank 2008)
Internet domain: .be
International dialling code: +32
Leaders
King: Albert II
Prime Minister: (outgoing) Herman Van Rompuy
Veteran politician Herman Van Rompuy became prime minister at the head of a fragile coalition after the resignation of Yves Leterme who was in power for only nine months.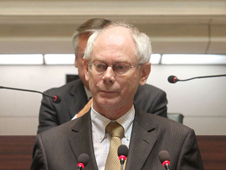 Mr Van Rompuy was reluctant to accept the post of prime minister
Mr Leterme stepped down amid allegations that his aides tried to influence a court decision connected to the break-up of Fortis one of Belgium's largest banks.
Mr Van Rompuy's government was largely unchanged from his predecessor's coalition.
He is widely seen as a safe pair of hands with good negotiation skills as well as something of a moderate in Belgium's increasingly polarised politics.
The new prime minister looked likely to need those attributes as he faced the prospect of grappling with the fallout from the Fortis scandal the global economic crisis and the long-running dispute between Belgium's Dutch- and French-speaking communities.
Mr Van Rompuy is a member of the Flemish Christian Democrats and was the leader of the lower house of parliament before becoming PM.
He was at first unwilling to take on the difficult job of heading Belgium's government but was persuaded to accept the post by the king Albert II.
Other posts held by Mr Van Rompuy include that of budget minister from 1993 to 1999 and leader of the Flemish Christian Democrats between 1988 and 1993.
His predecessor Yves Leterme had only taken over in March 2008 after nine months of deadlock caused by post-election squabbling over devolution plans between Dutch- and French-speaking parties.
Mr Van Rompuy was designated President of the European Council in November 2009 a post he is to take up in January 2010. Mr Leterme was then nominated to succeed him in a second term as prime minister.
Media
Belgian broadcasting mirrors the unique political and linguistic nature of the country. The cultural communities rather than the federal authorities are responsible for regulating radio and TV.
So unlike most other European countries Belgium does not have a single public broadcasting organisation but two separate bodies with their own regulations running their own radio TV and external broadcasting.
Some 95% of Belgians are hooked-up to cable TV; one of the highest take-up rates in the world. Cable services offer dozens of domestic and foreign channels including Dutch and French stations.
Belgium aims to complete the conversion to digital TV by 2011 when it plans to switch off the analogue signal.
The Belgian press is self-regulated by the Federation of Editors - to which all editors of major newspapers belong. A small number of media groups owns the main newspaper titles.
The press

Television

Radio

News agency/internet


AFRICA | ASIA-PACIFIC | AMERICAS | EUROPE |  MIDDLEEAST |  SOUTHASIA






Mauritania Mauritius Morocco  Mozambique Namibia Niger Nigeria Republic-of-congo Rwanda Sao-tome-and-principe Senegal Seychelles Sierra-leone Somalia South-africa Sudan Swaziland Tanzania The-gambia Togo Tunisia Uganda Australia Brunei Burma Cambodia China East-timor Fiji Indonesia Japan Kazakhstan Kiribati Kyrgyzstan Laos Malaysia Marshall-islands Micronesia Mongolia Nauru New-zealand North-korea Palau Papua-new-guinea Samoa Singapore Solomon-islands South-korea Taiwan Tajikistan Thailand The-philippines Tonga Turkmenistan Tuvalu Uzbekistan Vanuatu Vietnam Antigua-and-barbuda Belize Bolivia  Brazil Canada Chile Colombia Costa-rica Cuba Dominica Dominican-republic Ecuador El-salvador Grenada Guatemala Guyana Haiti Honduras Jamaica Mexico Nicaragua St-kitts-and-nevis St-lucia Suriname Trinidad-and-tobago Uruguay Venezuela Albania Andorra Armenia Austria Azerbaijan Belarus Belgium Bosnia-hercegovina Bulgaria Croatia Cyprus Czech-republic Denmark Estonia Finland France Georgia Germany Greece Hungary Iceland Ireland Italy Latvia Liechtenstein Lithuania Luxembourg Macedonia Malta Moldova Monaco Montenegro Norway Poland Portugal Russia San-marino Serbia Slovakia Slovenia Spain Sweden Algeria Egypt Iran Iraq Israel-and-palestinian-territories Jordan Kuwait Lebanon Libya Mauritania Oman Saudi-arabia Sudan Syria Tunisia United-arab-emirates Yemen Afghanistan Bangladesh Bhutan India Nepal Pakistan Sri-Lanka The-Maldive