Country profile:

Turkmenistan



Structure of Health Care
As under the Soviet system, health care continues to be universally available to all citizens without charge. The health care system that Turkmenistan inherited from the Soviet regime is fraught with deficiencies, however. On the whole, physicians are poorly trained, modern medical technologies are almost unheard of, and many basic medicines are in short supply. Although health care is available to most urban residents, the system is financially bankrupt, and treatment is often primitive. Only recently have some medical professionals been allowed to offer private medical care, and the state maintains a near monopoly of health care.

Turkmenistan is made up mainly of desert and has the smallest population of the five former Soviet republics in Central Asia.
The government is seen as the region's most autocratic but the strict isolation imposed by eccentric dictator Saparmurat Niyazov lifted slightly after his death.

The country claims to possess the world's fifth largest estimated reserves of natural gas.

Overview
Despite its gas wealth much of Turkmenistan's population is still impoverished. Since independence from the Soviet Union in 1991 the country has remained largely closed to the outside world.
It is effectively a one-party state dominated by the Democratic Party of Turkmenistan which was led by the late president Saparmurat Niyazov until his death in December 2006.
The late leader styled himself Turkmenbashi or Father of the Turkmen and made himself the centre of an omnipresent cult of personality. Mr Niyazov who was made president for life in 1999 spent large sums of public money on numerous grandiose projects but not on social welfare.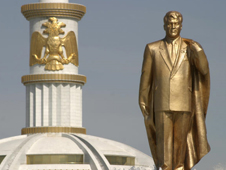 Presidential palace in Ashgabat built by late President Niyazov
His influence spread into every conceivable area of life in the republic. Turkmens were even expected to take spiritual guidance from his book Ruhnama a collection of thoughts on Turkmen culture and history.
His successor Kurbanguly Berdymuhamedov said he would follow in Mr Niyazov's footsteps but increasingly showed signs of a different approach for instance by eschewing the pomp that accompanied his predecessor's public appearances.
Turkmenistan is the most ethnically homogeneous of the Central Asian republics the vast majority of its population consisting of Turkmens. There are also Uzbeks Russians and smaller minorities of Kazakhs Tatars Ukrainians Azerbaijanis and Armenians.
In contrast to other former Soviet republics it has been largely free of inter-ethnic hostilities. However strong tribal allegiances can be a source of tension.
With foreign investors keeping away the Turkmen economy remains underdeveloped.
The country has been unable to benefit fully from its gas and oil deposits because of an absence of export routes and a dispute between the Caspian Sea littoral states over the legal status of offshore oil wells.
Turkmenistan produces roughly 70 billion cubic metres of natural gas each year and about two-thirds of its exports go to Russia's Gazprom. A protracted dispute between the two countries over the price ended in September 2006 when Gazprom agreed to pay 54% more.
Turkmenistan has since made efforts to break out of Russia's hold on its exports. It is building a major gas pipeline to China and is considering taking part in the Nabucco pipeline - an EU-backed project designed to provide an alternative to Russian gas supplies to Europe.
Facts
Population: 5.1 million (UN 2009)
Capital: Ashgabat
Area: 488,100 sq km (188,456 sq miles)
Major language: Turkmen Russian
Major religion: Islam
Life expectancy: 61 years (men) 69 years (women) (UN)
Monetary unit: 1 Turkmen manat = 100 tenge
Main exports: Oil gas textiles raw cotton
GNI per capita: US $2,840 (World Bank 2008)
Internet domain: .tm
International dialling code: +993
Leaders
President: Kurbanguly Berdymukhamedov
Kurbanguly Berdymukhamedov was sworn in as president after winning elections in February 2007 with 89% of the vote.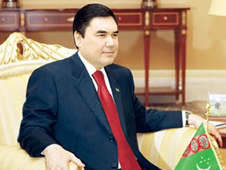 Kurbanguly Berdymukhamedov aims to follow in President Niyazov's footsteps
There were six candidates in the poll all from the Democratic Party of Turkmenistan. Exiled figures from the Turkmen opposition were banned from competing. Electoral officials put turnout out at over 95%. Rights groups and Western diplomats condemned the election as rigged.
Weeks later the president was chosen as chairman of the People's Council Turkmenistan's highest legislative body. He was the only candidate.
A former deputy prime minister Mr Berdymukhamedov became acting president after authoritarian leader Saparmyrat Niyazov died in December 2006. Mr Niyazov had been in power since Soviet times.
His nomination for the presidency surprised observers because under the constitution the post should have gone to People's Council chairman Ovezgeldy Atayev. However after Mr Niyazov died Mr Atayev became the subject of a criminal investigation and was sacked.
The new president has promised to continue the policies of his predecessor but also to introduce reforms including unlimited access to the internet better education and higher pensions.
Soon after coming to power he restored pensions to more than 100,000 elderly citizens reversing President Niyazov's decisions to withdraw them the previous year.
He has dismantled aspects of his predecessor's personality cult but in part only to introduce the beginnings of one of his own. Already a new mosque was named after him in 2009 and bookshops are full of Mr Berdymukhamedov's own works.
Once Mr Niyazov's personal dentist Mr Berdymukhamedov became Turkmen health minister in 1997 and deputy premier in 2001. One of his tasks was to implement Mr Niyazov's health service reforms which are widely seen as having brought about its near collapse.
Kurbanguly Berdymukhamedov was born in 1957.
Media
The Turkmen government has an absolute monopoly of the media. The authorities monitor media outlets operate printing presses and lay down editorial policies.
The Organisation for Security and Cooperation in Europe has described the lack of press freedom in the country as "unprecedented" in the body's history.
Paris-based Reporters Without Frontiers said former President Niyazov's only use for the media was to "promote his own glory".
Turkmenistan has "one of the worst media climates in the world," according to the Canada-based International Freedom of Expression exchange forum.
Programmes from Russian TV stations are censored before being rebroadcast.
Turkmentelecom and other state bodies control internet access. There are around 70,000 internet users (ITU March 2008). All foreign-based Turkmen opposition websites are blocked.
The press

Neytralnyy Turkmenistan - Russian-language published six times a week
Turkmenistan - Turkmen-language, published six times a week
Watan (Homeland) - Turkmen-language published three times a week
Galkynys (Revival) - Turkmen-language weekly mouthpiece of the ruling Democratic Party of Turkmenistan
Turkmen Dunyasi - Turkmen-language monthly mouthpiece of the Ashgabat-based World Turkmens Association
Adalat (Justice) in Turkmen
Edebiyat we Sungat (Literature and the Arts) in Turkmen
Television

Turkmen TV - state-owned operates four networks including main channel Altyn Asyr (Golden Age)
Radio

Turkmen radio - state-owned operates four networks
News agency/internet



AFRICA | ASIA-PACIFIC | AMERICAS | EUROPE |  MIDDLEEAST |  SOUTHASIA






Mauritania Mauritius Morocco  Mozambique Namibia Niger Nigeria Republic-of-congo Rwanda Sao-tome-and-principe Senegal Seychelles Sierra-leone Somalia South-africa Sudan Swaziland Tanzania The-gambia Togo Tunisia Uganda Australia Brunei Burma Cambodia China East-timor Fiji Indonesia Japan Kazakhstan Kiribati Kyrgyzstan Laos Malaysia Marshall-islands Micronesia Mongolia Nauru New-zealand North-korea Palau Papua-new-guinea Samoa Singapore Solomon-islands South-korea Taiwan Tajikistan Thailand The-philippines Tonga Turkmenistan Tuvalu Uzbekistan Vanuatu Vietnam Antigua-and-barbuda Belize Bolivia  Brazil Canada Chile Colombia Costa-rica Cuba Dominica Dominican-republic Ecuador El-salvador Grenada Guatemala Guyana Haiti Honduras Jamaica Mexico Nicaragua St-kitts-and-nevis St-lucia Suriname Trinidad-and-tobago Uruguay Venezuela Albania Andorra Armenia Austria Azerbaijan Belarus Belgium Bosnia-hercegovina Bulgaria Croatia Cyprus Czech-republic Denmark Estonia Finland France Georgia Germany Greece Hungary Iceland Ireland Italy Latvia Liechtenstein Lithuania Luxembourg Macedonia Malta Moldova Monaco Montenegro Norway Poland Portugal Russia San-marino Serbia Slovakia Slovenia Spain Sweden Algeria Egypt Iran Iraq Israel-and-palestinian-territories Jordan Kuwait Lebanon Libya Mauritania Oman Saudi-arabia Sudan Syria Tunisia United-arab-emirates Yemen Afghanistan Bangladesh Bhutan India Nepal Pakistan Sri-Lanka The-Maldive