Country profile:

Ecuador





The government made most basic doctor visits, surgeries and medications free and increased health spending. But improving the struggling public health system will take years, even under the best conditions, said Elizabeth Roberts, an assistant professor of anthropology at the University of Michigan who has extensively studied the Ecuadorian system.

Ecuador is a patchwork of indigenous communities including people of colonial Spanish origins and the descendants of African slaves.
Its capital Quito once a part of the Inca empire has some of the best-preserved early colonial architecture on the continent.
Traditionally a farming country Ecuador's economy was transformed after the 1960s by the growth of industry and the discovery of oil. There was rapid growth and progress in health education and housing.
Overview
But by the end of the 20th century a combination of factors including falling oil prices and damage caused by the weather phenomenon El Nino had driven the economy into recession.
AT-A-GLANCE

Politics: Three presidents have been ousted since 1997; current leader Rafael Correa has pledged to introduce sweeping reforms

Economy: Ecuador exports oil but many people live in poverty; indigenous groups oppose free trade policies

International: Free trade talks with US are frozen over a dispute about a US oil firm; Ecuador has complained of border incursions by the Colombian military
Inflation which had become the highest in the region led the government to replace the national currency with the US dollar in an effort to curtail it.
Not all Ecuadorans have benefited equally from oil revenues. The traditionally dominant Spanish-descended elite gained far more than indigenous peoples and those of mixed descent.
Steps to stabilise the economy such as austerity measures and privatisation have generated widespread unrest particularly among the indigenous poor.
For a small country Ecuador has many faces. They include Andean peaks tropical rainforests and - 1000 km (600 miles) off the coast - the volcanic Galapagos Islands home to the animals and birds whose evolutionary adaptations shaped Charles Darwin's theories.
Facts
Full name: Republic of Ecuador
Population: 13.6 million (UN 2009)
Capital: Quito
Area: 272045 sq km (105037 sq miles)
Major languages: Spanish indigenous languages
Major religion: Christianity
Life expectancy: 72 years (men) 78 years (women) (UN)
Monetary unit: 1 US dollar = 100 cents
Main exports: Petroleum bananas shrimp coffee cocoa cut flowers fish
GNI per capita: US$3640 (World Bank 2008)
Internet domain: .ec
International dialling code: +593
Leaders
President: Rafael Correa
Rafael Correa won the run-off vote in presidential elections in November 2006 promising a social revolution to benefit the poor.
| | |
| --- | --- |
| | President Correa aims to rewrite the constitution |
He took up his post in January 2007 joining Latin America's club of left-leaning leaders including Venezuelan President Hugo Chavez and Bolivian President Evo Morales who have not been shy in their criticism of the US and who have led a South American nationalisation drive.
Mr Correa an outsider with no political party backing moved quickly to secure the support of voters in a referendum for a special assembly to rewrite the constitution.
He said the new constitution was designed to hand more power to the poor and reduce the role of the traditional parties whom he blames for the country's problems. Critics said it was solely aimed at increasing his powers.
Despite resistance from the opposition-led Congress the revised constitution was approved by 64% of voters in a referendum in September 2008.
The new basic law also allowed Mr Correa to stand for re-election enabling him to win a second term with a convincing election victory in April 2009.
Mr Correa is against Ecuador entering into a free trade pact with the US saying it would hurt Ecuador's farmers. Talks on such a deal were frozen with his election.
He also refused to extend the US military's use of the Manta air base on the Pacific coast for drug surveillance flights after the treaty governing its use expired in 2009.
He opposes Colombia's coca crop spraying along their common border as part of a drug eradication programme saying the spray drifts into Ecuador and kills crops - and reportedly also farmers.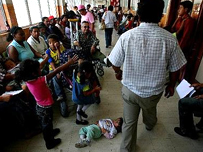 Under Ecuador's health system, basic care is free, and most complex treatment requires a fee.
Rafael Correa obtained his doctorate in economics from the University of Illinois in the US in 2001 and was professor at Quito's San Francisco University.
He was appointed economy minister in April 2005 but was forced to resign after four months when he failed to consult the president before publicly lambasting the World Bank for denying Ecuador a loan.
Born in 1963 he spent a year as a volunteer in a poor Indian village
in the Andes mountains and speaks French English and some Quechua. He has three children with his Belgian wife.
Media
Private operators dominate the media scene. Radio is the most widely-available medium; there are hundreds of stations. Some stations in rural areas broadcast in indigenous languages.
Latin American soap operas and US series are staple fare on TV although domestic programme production is on the increase.
The constitution provides for freedom of speech and journalists are able to report without hindrance.
Newspapers exercise some self-censorship
However some self-censorship especially regarding politically-sensitive issues and stories about the armed forces is exercised. Also defamation is a criminal offence punishable by up to three years in prison.
Thus the media are generally non-confrontational and measured in tone.
Under a law which requires the media to give the government free space or air time governments can and have required TV and radio
to broadcast programmes produced by the state.
Internet use is limited by high access costs. Less than 10% of Ecuadorans have web access.
The press

Television

Radio



AFRICA | ASIA-PACIFIC | AMERICAS | EUROPE |  MIDDLEEAST |  SOUTHASIA






Mauritania Mauritius Morocco  Mozambique Namibia Niger Nigeria Republic-of-congo Rwanda Sao-tome-and-principe Senegal Seychelles Sierra-leone Somalia South-africa Sudan Swaziland Tanzania The-gambia Togo Tunisia Uganda Australia Brunei Burma Cambodia China East-timor Fiji Indonesia Japan Kazakhstan Kiribati Kyrgyzstan Laos Malaysia Marshall-islands Micronesia Mongolia Nauru New-zealand North-korea Palau Papua-new-guinea Samoa Singapore Solomon-islands South-korea Taiwan Tajikistan Thailand The-philippines Tonga Turkmenistan Tuvalu Uzbekistan Vanuatu Vietnam Antigua-and-barbuda Belize Bolivia  Brazil Canada Chile Colombia Costa-rica Cuba Dominica Dominican-republic Ecuador El-salvador Grenada Guatemala Guyana Haiti Honduras Jamaica Mexico Nicaragua St-kitts-and-nevis St-lucia Suriname Trinidad-and-tobago Uruguay Venezuela Albania Andorra Armenia Austria Azerbaijan Belarus Belgium Bosnia-hercegovina Bulgaria Croatia Cyprus Czech-republic Denmark Estonia Finland France Georgia Germany Greece Hungary Iceland Ireland Italy Latvia Liechtenstein Lithuania Luxembourg Macedonia Malta Moldova Monaco Montenegro Norway Poland Portugal Russia San-marino Serbia Slovakia Slovenia Spain Sweden Algeria Egypt Iran Iraq Israel-and-palestinian-territories Jordan Kuwait Lebanon Libya Mauritania Oman Saudi-arabia Sudan Syria Tunisia United-arab-emirates Yemen Afghanistan Bangladesh Bhutan India Nepal Pakistan Sri-Lanka The-Maldive