Country profile:

Bosnia Hercegovina





The programme for pharmaceuticals of the World Health Organisation's Regional Office for Europe recently carried out a situation analysis of the pharmaceuticals in Bosnia-Hercegovina. One striking finding was the large amount of unused drugs that originated from donations. This finding is not exclusive to Bosnia-Hercegovina, and urgent action is needed to prevent such situations in countries in transition.
In Bosnia-Hercegovina 70–80% of drugs were reported to have been provided by humanitarian organisations, charities, and groups of …
Bosnia-Hercegovina is recovering from a devastating three-year war which accompanied the break-up of Yugoslavia in the early 1990s.
The 1992-1995 conflict centred on whether Bosnia should stay
in the Yugoslav Federation or whether it should become independent.
Overview
It is now an independent state but under international administration. Its three main ethnic groups are Bosniaks (Bosnian Muslims) Croats and Serbs. The war left Bosnia's infrastructure and economy in tatters. Around two million people - about half the population - were displaced.
International administration backed at first by Nato forces and later by a smaller European Union-led peacekeeping force has helped the country consolidate stability.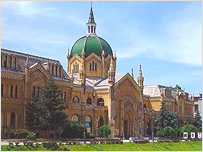 Sarajevo (capital of Bosnia and Herzegovina)
But early in 2007 the International Crisis Group a think tank warned: "Bosnia remains unready for unguided ownership of its own future - ethnic nationalism remains too strong."
The 1995 Dayton peace accord which ended the Bosnian war set up two separate entities; a Bosniak-Croat Federation of Bosnia and Hercegovina and the Bosnian Serb Republic or Republika Srpska each with its own president government parliament police and other bodies.
Overarching these entities is a central Bosnian government and rotating presidency. In addition there exists the district of Brcko which is a self-governing administrative unit established as a neutral area placed under joint Serb Croat and Bosniak authority.
Dayton also established the Office of the High Representative. The Office's representative is the state's ultimate authority responsible for implementation of Dayton and with the power to ''compel the entity governments to comply with the terms of the peace agreement and the state constitution''.
Critics of Dayton said the two entities came too close to being states in their own right and that the arrangement reinforced separatism and nationalism at the expense of integration. Negotiations to amend the existing constitution established by Dayton in order to strengthen state institutions and transform the country into a non-ethnic parliamentary democracy have so far failed to make much progress.
In a bid to encourage Bosnia to resolve its ethnic divisions and eventually qualify for EU membership EU foreign ministers gave the go-ahead in late 2005 for talks on a Stabilisation and Association Agreement with the country.
The prospect of talks with the EU is thought to have increased pressure for the capture of two key Bosnian Serb war crimes suspects Radovan Karadzic and Ratko Mladic.
After nearly 13 years on the run Radovan Karadzic was arrested in July 2008 by Serbian security forces in Belgrade. His trial on war crimes charges opened at the UN tribunal in The Hague in October 2009.
But local elections in October 2008 had in the meantime reinforced Bosnia's ethnic divisions with nationalist parties doing well among all three ethnic groups.
And only days before the Karadzic trial opened efforts by the EU and US to break the stalemate on constitutional reform and prepare the country for eventual EU and Nato membership ended in failure when leaders of the three main ethnic groups rejected the proposals.
Facts
Full name: Bosnia and Hercegovina
Population: 3.8 million (UN 2009)
Capital: Sarajevo
Area: 51129 sq km (19741 sq miles)
Major languages: Bosnian Croatian and Serbian
Major religions: Christianity Islam
Life expectancy: 72 years (men) 78 years (women) (UN)
Monetary unit: 1 convertible marka = 100 convertible pfenniga
Main exports: Wood and paper metal products
GNI per capita: US $4510 (World Bank 2008)
Internet domain: .ba
International dialling code: +387
Leaders
President: The presidency rotates every eight months between a Serb a Bosniak (Bosnian Muslim) and a Croat.
The responsibilities of the presidency lie largely in international affairs.
Prime minister: Nikola Spiric
Nikola Spiric a Bosnian Serb was first asked to form a government in January 2007 after the parties which gained the most votes in general elections in October agreed on a coalition.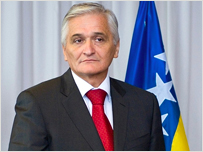 Nikola Spiric resigned after 10 months
He resigned in November 2007 in protest at efforts by the High Representative and EU Special Representative Miroslav Lajcak to introduce reforms supported by the EU. Mr Spiric said in his resignation speech that Bosnia has been run for too long by foreigners.
However in December 2007 he secured the approval of Bosnia's parliament to return as prime minister promising to work on reforms that would bring Bosnia closer to membership of Nato and the European Union.
Media
The war in Bosnia-Hercegovina turned most media into propaganda tools in the hands of authorities armies and factions. Since the 1995 Dayton Peace Accord efforts have been made - with limited success - to develop media which bridge inter-entity boundaries.
The most influential broadcasters in Bosnia are the public radio and TV stations operated by the Bosniak-Croat and Serb entities. The Office of the High Representative (OHR) the leading international civilian agency in Bosnia is overseeing the development of a national public broadcasting service.
The OHR and other international organisations have encouraged the development of media which support a civic rather than a nationalist approach.
The media are partially free but outlets and journalists come under pressure from state bodies and political party structures in both the Bosniak-Croat and Serb entities.
More than 200 commercial radio and TV stations are on the air but their development has been hampered by a weak advertising market.
There were around 1.4m internet users by May 2008 (Internetworldstats).
The press

Television

Radio

News agencies



AFRICA | ASIA-PACIFIC | AMERICAS | EUROPE |  MIDDLEEAST |  SOUTHASIA






Mauritania Mauritius Morocco  Mozambique Namibia Niger Nigeria Republic-of-congo Rwanda Sao-tome-and-principe Senegal Seychelles Sierra-leone Somalia South-africa Sudan Swaziland Tanzania The-gambia Togo Tunisia Uganda Australia Brunei Burma Cambodia China East-timor Fiji Indonesia Japan Kazakhstan Kiribati Kyrgyzstan Laos Malaysia Marshall-islands Micronesia Mongolia Nauru New-zealand North-korea Palau Papua-new-guinea Samoa Singapore Solomon-islands South-korea Taiwan Tajikistan Thailand The-philippines Tonga Turkmenistan Tuvalu Uzbekistan Vanuatu Vietnam Antigua-and-barbuda Belize Bolivia  Brazil Canada Chile Colombia Costa-rica Cuba Dominica Dominican-republic Ecuador El-salvador Grenada Guatemala Guyana Haiti Honduras Jamaica Mexico Nicaragua St-kitts-and-nevis St-lucia Suriname Trinidad-and-tobago Uruguay Venezuela Albania Andorra Armenia Austria Azerbaijan Belarus Belgium Bosnia-hercegovina Bulgaria Croatia Cyprus Czech-republic Denmark Estonia Finland France Georgia Germany Greece Hungary Iceland Ireland Italy Latvia Liechtenstein Lithuania Luxembourg Macedonia Malta Moldova Monaco Montenegro Norway Poland Portugal Russia San-marino Serbia Slovakia Slovenia Spain Sweden Algeria Egypt Iran Iraq Israel-and-palestinian-territories Jordan Kuwait Lebanon Libya Mauritania Oman Saudi-arabia Sudan Syria Tunisia United-arab-emirates Yemen Afghanistan Bangladesh Bhutan India Nepal Pakistan Sri-Lanka The-Maldive