Country profile:

Honduras





Honduras has the third-smallest pharmaceutical market in Central America. Combined sales of prescription drugs and over-the-counter (OTC) medicines reached HNL3.87bn (US$205mn) in 2008. Due to the stable lempira, this equates to 10.2% growth in both local currency and US dollar terms. However, the market is set to contract in 2010, before returning to modest growth the following year.

Military rule corruption a huge wealth gap crime and natural disasters have rendered Honduras one of the least developed and least secure countries in Central America.
Until the mid-1980s Honduras was dominated by the military which enthusiastically supported US efforts to stem revolutionary movements in the region.
Since then civilian leaders have sought to curb the power of the military - with varying degrees of success.
Some army officers have been charged with human rights abuses but many have still to be prosecuted for violations committed in the 1980s.
Overview
Honduran society is rife with economic inequality. Malnutrition poor housing and infant diseases are widespread.
The country has a youthful population; 50% of Hondurans are under the age of 19. But endemic poverty chronic unemployment and the prospects offered by drug trafficking have contributed to a virulent crime wave conducted mainly by youth gangs known as "maras".
The maras are said to have tens of thousands of members and use threats and violence to control poorer districts in towns and cities.
Meanwhile police officers have been implicated in high-profile crimes and the police are thought to have been involved in the murders by death squads of youths and street children.
Honduras was devastated by Hurricane Mitch in 1998. At least 5000 people were killed and 70% of the country's crops were destroyed. The damage was estimated at $3bn setting development back by decades.
Thousands of Hondurans leave the country each year most of them for the US. The money sent home by the overseas workers is an important source of income for many families.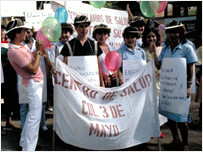 A parade to publicize an immunization campaign, Honduras, 1986
Facts
Full name: Republic of Honduras
Population: 7.5 million (UN 2009)
Capital: Tegucigalpa
Area: 112492 sq km (43433 sq miles)
Major languages: Spanish indigenous languages English
Major religion: Christianity
Life expectancy: 70 years (men) 75 years (women) (UN)
Monetary unit: 1 lempira = 100 centavos
Main exports: Coffee bananas shellfish meat timber gold and other minerals
GNI per capita: US$1800 (World Bank 2008)
Internet domain: .hn
International dialling code: +504
Leaders
President (acting): Roberto Micheletti
Congress speaker Roberto Micheletti was sworn in as interim president after the ousting of elected president Manuel Zelaya by the military in June 2009.
On assuming power Mr Micheletti said President Zelaya had been removed constitutionally and that presidential elections due to take place on 29 November would go ahead as scheduled.
President: Manuel Zelaya Rosales (ousted June 2009)
President Manuel Zelaya was ousted from office by the military on 28 June 2009.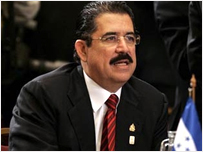 Manuel Zelaya says he remains the country's legitimate president
He was arrested shortly before polls were due to open in a constitutional referendum he had ordered but which had been declared unlawful.
He was flown to Costa Rica and on arrival said he had been kidnapped by soldiers in a coup.
In a surprise move Mr Zelaya returned to Honduras on 21 September taking refuge in the Brazilian embassy in Tegucigalpa. The interim president Roberto Micheletti said police would not force their way into the building. He said he was prepared for dialogue but only if Mr Zelaya appealed for calm and accepted elections that are scheduled for November.
Before his June ousting Mr Zelaya who was elected to a non-renewable four-year term in 2005 had planned a vote asking Hondurans to sanction a referendum to allow him to stand again for president. The referendum had been ruled illegal by Honduras' Supreme Court and was opposed by the military.
His ousting drew widespread criticism across Latin America and the wider world.
Mr Zelaya from the Liberal Party won a hotly-contested presidential election in November 2005 with a majority of 75000 votes.
His main rival the National Party's Porfirio "Pepe" Lobo Sosa conceded defeat after 10 days of uncertainty over the count which was beset by technical problems.
Mr Zelaya who served in the government of former president Carlos Flores came to office promising to curb gang violence and tackle corruption.
His predecessor the National Party's Ricardo Maduro implemented economic reforms in return for credit from the International Monetary Fund (IMF) and changed the penal code to try to stem rampant crime.
Media
Media freedom in Honduras is restricted by punitive defamation laws. These require journalists to reveal sources in certain cases.
Journalists tend to exercise self-censorship to avoid offending the political or economic interests of media owners and there have been cases of journalists accepting bribes from officials.
The level of violence against journalists is "alarmingly high" Reporters Without Borders said in 2007.
The press

Television

Radio



AFRICA | ASIA-PACIFIC | AMERICAS | EUROPE |  MIDDLEEAST |  SOUTHASIA






Mauritania Mauritius Morocco  Mozambique Namibia Niger Nigeria Republic-of-congo Rwanda Sao-tome-and-principe Senegal Seychelles Sierra-leone Somalia South-africa Sudan Swaziland Tanzania The-gambia Togo Tunisia Uganda Australia Brunei Burma Cambodia China East-timor Fiji Indonesia Japan Kazakhstan Kiribati Kyrgyzstan Laos Malaysia Marshall-islands Micronesia Mongolia Nauru New-zealand North-korea Palau Papua-new-guinea Samoa Singapore Solomon-islands South-korea Taiwan Tajikistan Thailand The-philippines Tonga Turkmenistan Tuvalu Uzbekistan Vanuatu Vietnam Antigua-and-barbuda Belize Bolivia  Brazil Canada Chile Colombia Costa-rica Cuba Dominica Dominican-republic Ecuador El-salvador Grenada Guatemala Guyana Haiti Honduras Jamaica Mexico Nicaragua St-kitts-and-nevis St-lucia Suriname Trinidad-and-tobago Uruguay Venezuela Albania Andorra Armenia Austria Azerbaijan Belarus Belgium Bosnia-hercegovina Bulgaria Croatia Cyprus Czech-republic Denmark Estonia Finland France Georgia Germany Greece Hungary Iceland Ireland Italy Latvia Liechtenstein Lithuania Luxembourg Macedonia Malta Moldova Monaco Montenegro Norway Poland Portugal Russia San-marino Serbia Slovakia Slovenia Spain Sweden Algeria Egypt Iran Iraq Israel-and-palestinian-territories Jordan Kuwait Lebanon Libya Mauritania Oman Saudi-arabia Sudan Syria Tunisia United-arab-emirates Yemen Afghanistan Bangladesh Bhutan India Nepal Pakistan Sri-Lanka The-Maldive