Country profile: Micronesia




Health trends
The overall health situation remained unchanged between 2000 and 2005, with the population showing continuing susceptibility to both communicable and noncommunicable diseases. Citizens of the Federated States of Micronesia enjoy a level of health care which is high in comparison with the rest of the Pacific region. Micronesian doctors have taken the place of United States doctors in much of the health system through such programmes as the now defunct Pacific Basin Medical Officer Training Programme in Pohnpei.

Prenatal care is slowly improving in the state centres and is being expanded to remote areas. Death and illness due to diarrhoea and acute respiratory infections still form a large proportion of infant mortality and morbidity. The number of vaccine-preventable diseases has declined considerably. However, waterborne and foodborne diseases are major causes of hospital admission.

Micronesia in the western Pacific consists of some 600 islands grouped into four states: Kosrae Pohnpei Chuuk (Truk) and Yap.
Occupying a very small total land mass it is scattered over an ocean expanse five times the size of France.
Though formally independent in 1986 Micronesia signed a "Compact of Free Association" with the US. Under this Washington took on responsibility for defence and gained the right to set up military bases and deny other nations access to Micronesia.
Overview
In return Micronesia received financial assistance averaging $100m per year and the right of Micronesians to live and work in the US. Micronesia also takes its cue from Washington on foreign policy.
A renegotiated 20-year compact worth $3.5 billion to Micronesia and the Marshall Islands was signed by US President George W Bush in December 2003. Some of the money is being diverted into trust funds intended to provide a financial resource for Micronesia after the compact expires.
Despite its small population and the large amount of incoming aid from the US Japan and elsewhere Micronesia has relatively high unemployment a matter compounded by increasing numbers of Filipino migrant workers.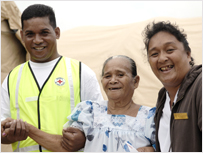 A Chuukese woman is escorted by two volunteers after receiving treatment from the humanitarian assistance rapid response team during a validation exercise Sept. 3, 2009, on Chuuk, in the Federated States of Micronesia.
Many Micronesians live without electricity or running water which is in short supply and is sometimes rationed. The gap between rich and poor is increasing as businessmen and officials benefit disproportionately from US aid donations.
Micronesia's biggest challenge is to find a way of lessening its dependence on foreign aid. Given the islands' splendid beaches
and scuba diving opportunities tourism offers one possibility but
this is constrained by the lack of adequate infrastructure and the islands' remoteness.
Facts
Full name: Federated States of Micronesia
Population: 111000 (UN 2009)
Capital: Palikir
Area: 700 sq km (270 sq miles)
Major languages: English Trukese Pohnpeian Yapese Kosrean
Major religion: Christianity
Life expectancy: 68 years (men) 69 years (women) (UN)
Monetary unit: 1 US dollar = 100 cents
Main exports: Fish garments bananas black pepper copra
GNI per capita: US $2340 (World Bank 2008)
Internet domain: .fm
International dialling code: +691
Leaders
President: Emanuel "Manny" Mori
Emanuel "Manny" Mori was chosen as the country's seventh president in May 2007 defeating the incumbent Joseph Urusemal. The president is elected every four years by the congress.
Mr Mori is from Chuuk the largest and most populous state in the four-state federation.
He was the executive vice president of the Bank of the Federated States of Micronesia from 1997 until his election as a senator in 1999. Apart from working as a banker he also worked in the civil service.
Mr Mori is of Japanese descent. He is married and has four daughters.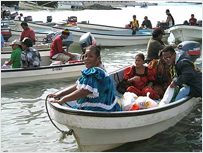 Weno, Chuuk Atoll (formerly Truk), Micronesia.
Media
Micronesia has no daily newspaper but the federal government publishes a fortnightly information bulletin and each of the constituent state governments produces its own newsletter.
The state governments and a religious organisation operate radio stations and cable TV is available on Pohnpei and Chuuk.
The press

The National Union - fortnightly bulletin published by federal government
The Island Tribune - private weekly
Pohnpei Business News
Micronesia Weekly
Television

KPON TV - Pohnpei commercial
TTTK TV - Chuuk commercial
WAAB TV - Yap government
Radio



AFRICA | ASIA-PACIFIC | AMERICAS | EUROPE |  MIDDLEEAST |  SOUTHASIA






Mauritania Mauritius Morocco  Mozambique Namibia Niger Nigeria Republic-of-congo Rwanda Sao-tome-and-principe Senegal Seychelles Sierra-leone Somalia South-africa Sudan Swaziland Tanzania The-gambia Togo Tunisia Uganda Australia Brunei Burma Cambodia China East-timor Fiji Indonesia Japan Kazakhstan Kiribati Kyrgyzstan Laos Malaysia Marshall-islands Micronesia Mongolia Nauru New-zealand North-korea Palau Papua-new-guinea Samoa Singapore Solomon-islands South-korea Taiwan Tajikistan Thailand The-philippines Tonga Turkmenistan Tuvalu Uzbekistan Vanuatu Vietnam Antigua-and-barbuda Belize Bolivia  Brazil Canada Chile Colombia Costa-rica Cuba Dominica Dominican-republic Ecuador El-salvador Grenada Guatemala Guyana Haiti Honduras Jamaica Mexico Nicaragua St-kitts-and-nevis St-lucia Suriname Trinidad-and-tobago Uruguay Venezuela Albania Andorra Armenia Austria Azerbaijan Belarus Belgium Bosnia-hercegovina Bulgaria Croatia Cyprus Czech-republic Denmark Estonia Finland France Georgia Germany Greece Hungary Iceland Ireland Italy Latvia Liechtenstein Lithuania Luxembourg Macedonia Malta Moldova Monaco Montenegro Norway Poland Portugal Russia San-marino Serbia Slovakia Slovenia Spain Sweden Algeria Egypt Iran Iraq Israel-and-palestinian-territories Jordan Kuwait Lebanon Libya Mauritania Oman Saudi-arabia Sudan Syria Tunisia United-arab-emirates Yemen Afghanistan Bangladesh Bhutan India Nepal Pakistan Sri-Lanka The-Maldive