Country profile: Malaysia



Pharmaceuticals Industries in Malaysia
Malaysian pharmaceutical manufacturers have the capability to produce medicines in all dosage forms e.g. tablets (coated & non-coated), capsules (hard and soft gelatin), liquids, creams, ointments, sterile eye drops, small volume injectables ( ampoules and vials), large volume infusions, dry powders for reconstitution and active pharmaceutical ingredients (API).
Local manufacturers have also developed and launched off-patent generics and herbal products using their own brands. Currently, the local industry is producing about 30 per cent of the domestic demand, as well as exporting to the Asia-Pacific Rim countries, the Middle East, Africa, Latin America and Europe. Total exports in 2008 amounted to RM513 million (US$142 million).

Malaysia boasts one of south-east Asia's most vibrant economiesthe fruit of decades of industrial growth and political stability.

Its multi-ethnicmulti-religious society encompasses a majority Muslim population in most of its states and an economically-powerful Chinese community.
Overview
Consisting of two regions separated by some 640 miles of the South China SeaMalaysia is a federation of 13 states and three federal territories.
It is one of the region's key tourist destinationsoffering excellent beaches and brilliant scenery. Dense rainforests in the eastern states of Sarawak and Sabahon the island of Borneoare a refuge for wildlife and tribal traditions.
Malaysia made the transformation from a farm-based economy
Ethnic Malays comprise some 60% of the population. Chinese constitute around 26%; Indians and indigenous peoples make up the rest. The communities coexist in relative harmonyalthough there is little racial interaction.
Although since 1971 Malays have benefited from positive discrimination in businesseducation and the civil serviceethnic Chinese continue to hold economic power and are the wealthiest community. The Malays remain the dominant group in politics while the Indians are among the poorest.
The country is among the world's biggest producers of computer disk drivespalm oilrubber and timber. It has a state-controlled car makerProtonand tourism has considerable room for expansion.
Malaysia's economic prospects have been dented by the global economic downturnwhich has hit export markets hard. In March 2009 the government unveiled a $16bn economic stimulus plan as it sought to stave off a deep recession.
The country also faces other serious challenges - politicallyin the form of sustaining stability in the face of religious differences and the ethnic wealth gapandenvironmentallyin preserving its valuable forests.
Malaysia's human rights record has come in for international criticism. Internal security laws allow suspects to be detained without charge or trial.
Facts
Full name: Federation of Malaysia
Population: 27.5 million (UN2009)
Capital: Kuala Lumpur
Area: 329,847 sq km (127,355 sq miles)
Major languages: Malay (official)EnglishChinese dialectsTamilTeluguMalayalam
Major religions: IslamBuddhismTaoismHinduismChristianitySikhism
Life expectancy: 72 years (men)77 years (women)
Monetary unit: 1 ringgit = 100 sen
Main exports: Electronic equipmentpetroleum and liquefied natural gaschemicalspalm oilwood and wood productsrubbertextiles
GNI per capita: US $6,970 (World Bank2008)
Internet domain: .my
International dialling code: +60
Leaders
Head of state: Sultan Mizan Zainal Abidin
Sultan Mizan Zainal Abidin was installed as Malaysia's 13th king in December 2006.
| | |
| --- | --- |
| | Sultan Mizan Zainal Abidin's role is mainly ceremonial |
The sultan is a former ruler of oil-rich Terengganu state. He was 44 when he was sworn in.
The king's role is largely ceremonialalthough he is nominal head of the armed forces and all laws and the appointment of every cabinet minister require his assent.
Under Malaysia's constitutional monarchythe position of king is rotated every five years between each of the nine hereditary state rulers.
Malaysia's first prime ministerTunku Abdul Rahmanhimself a princedevised the system after independence in 1957 to spread power among the sultans and rajas who had ruled over fiefdoms on the Malay peninsula for hundreds of years.
Prime minister: Najib Abdul Razak
Najib Razak was guaranteed the post of prime minister in March 2009 when he became the leader of the United Malays National Organisationthe main party in the National Front ruling coalition.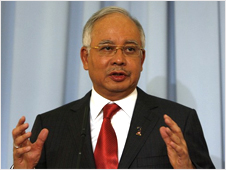 Like his predecessorMr Najib came to the job promising reforms
The son of the country's second prime minister and nephew of the thirdMr Najib is regarded by many Malaysians as political blue blood and seems to have been destined for the premiership from an early age.
A British-trained economisthe first entered parliament at the age of 23 - becoming the youngest MP in Malaysian history - and quickly rose to prominence.
He has held numerous cabinet postsincluding finance and defenceand was most recently deputy to outgoing Prime
Minister Abdullah Badawi.
He took over the premiership at a turbulent timeand faces the enormous challenge of steering the country through the global financial crisiswhich has hit the economy hard.

Mr Najib pledged radical reforms and a more transparent government. He said that one of his priorities would be to close a widening ethnic and religious divideafter Malaysia's ethnic minorities shifted towards the opposition in large numbers in the 2008 pollsfearing their rights were being eroded.
But his rise to power has been marked by a government crackdown on the resurgent oppositionwith allegations that strong-arm tactics are being used to stifle political dissent.
His predecessorAbdullah Ahmad Badawiresigned as prime minister in April 2009 after the governing coalition suffered a heavy defeat in a general election in March 2008.
Media
Malaysia has some of the toughest censorship laws in the world. The authorities exert substantial control over the media and can impose restrictions in the name of national security.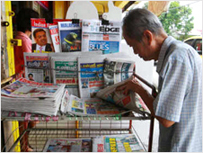 Malaysian media tycoon Tiong Hiew King reads a copy of the Chinese-language daily Nanyang Siang Pau
The government is keen to insulate the largely-Muslim population from what it considers harmful foreign influences on TV. News is subject to censorshipentertainment shows and music videos regularly fall foul of the censorsand scenes featuring swearing and kissing are routinely removed from TV programmes and films.
The TV sector comprises commercial networks and pay-TV operations. Around a quarter of TV households subscribe to the
Astro multichannel service. Pay-TV operators MiTV and Fine TV entered the market in 2005. TV3 is the leading national privateterrestrial broadcaster.
State-owned Radio Television Malaysia (RTM) operates two TV networks and many of the country's radio services. Private stations are on the airbroadcasting in MalayTamilChinese and English.
Newspapers must renew their publication licences annuallyand the home minister can suspend or revoke publishing permits.
Some web sitessuch as Laman Reformasiclose to former deputy prime minister Anwar IbrahimfreeMalaysia and Malaysiakinihave attracted official criticism.
The press

Television

Radio

News agency

AFRICA | ASIA-PACIFIC | AMERICAS | EUROPE |  MIDDLEEAST |  SOUTHASIA






Mauritania Mauritius Morocco  Mozambique Namibia Niger Nigeria Republic-of-congo Rwanda Sao-tome-and-principe Senegal Seychelles Sierra-leone Somalia South-africa Sudan Swaziland Tanzania The-gambia Togo Tunisia Uganda Australia Brunei Burma Cambodia China East-timor Fiji Indonesia Japan Kazakhstan Kiribati Kyrgyzstan Laos Malaysia Marshall-islands Micronesia Mongolia Nauru New-zealand North-korea Palau Papua-new-guinea Samoa Singapore Solomon-islands South-korea Taiwan Tajikistan Thailand The-philippines Tonga Turkmenistan Tuvalu Uzbekistan Vanuatu Vietnam Antigua-and-barbuda Belize Bolivia  Brazil Canada Chile Colombia Costa-rica Cuba Dominica Dominican-republic Ecuador El-salvador Grenada Guatemala Guyana Haiti Honduras Jamaica Mexico Nicaragua St-kitts-and-nevis St-lucia Suriname Trinidad-and-tobago Uruguay Venezuela Albania Andorra Armenia Austria Azerbaijan Belarus Belgium Bosnia-hercegovina Bulgaria Croatia Cyprus Czech-republic Denmark Estonia Finland France Georgia Germany Greece Hungary Iceland Ireland Italy Latvia Liechtenstein Lithuania Luxembourg Macedonia Malta Moldova Monaco Montenegro Norway Poland Portugal Russia San-marino Serbia Slovakia Slovenia Spain Sweden Algeria Egypt Iran Iraq Israel-and-palestinian-territories Jordan Kuwait Lebanon Libya Mauritania Oman Saudi-arabia Sudan Syria Tunisia United-arab-emirates Yemen Afghanistan Bangladesh Bhutan India Nepal Pakistan Sri-Lanka The-Maldive