Country profile: Nauru




Nauru Healthcare System
is being upgraded by the government and health department. Various measures are being taken that are showing good results. The medical charges in Nauru for the serious ailments are much higher and often costs huge amount.

Nauru healthcare has some current projects which look after the various aspects related to Nauru health systems. The Nauru Health Sector Support Facility is one such project and its function lies in providing services to the Nauruan Ministry of health. The services include sourcing the personnel, advising on the development of infrastructure, medical supplies and also planning the workforce.

Named Pleasant Island by its first European visitors the former British colony of Nauru is the world's smallest republic.
The tiny Pacific island once generated a per capita income out of proportion to its size. But the source of this wealth - phosphates - is nearing exhaustion leaving the islanders facing an uncertain future.
Overview
While the mining of 1000 years' worth of fossilised bird droppings has been lucrative Nauru relies on imports for almost everything - from food and water to fuel.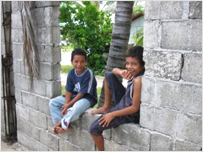 Little evidence remains of the rich returns from phosphate
Moreover recent financial crises have precipitated a slide into bankruptcy and a dependence on aid. The country had to sell off its assets in Australia to pay off a multi-million dollar debt to a US corporation.
Nauru's government has tried to develop alternative industries including tourism and offshore banking. A world body set up to fight money-laundering removed Nauru from its list of uncooperative states in late 2005.
In 2001 Nauru signed an agreement with Australia to accommodate asylum seekers on the island in return for millions of dollars in aid. However Australia ended its controversial "Pacific Solution" of detaining asylum seekers on islands in 2008.
Australia has sent financial experts to Nauru to help it overcome its problems.
Facts
Full name: Republic of Nauru
Population: 10000 (UN 2009)
Capital: None administrative centre is Yaren
Area: 21 sq km (8 sq miles)
Major languages: Nauruan English
Major religion: Christianity
Life expectancy: 55 years (men) 57 years (women) (UN)
Monetary unit: 1 Australian dollar = 100 cents
Main export: Phosphates
GNI per capita: n/a
Internet domain: .nr
International dialling code: +674
Leaders
President: Marcus Stephens
Marcus Stephens was sworn in as president in December 2007 after his predecessor Ludwig Scotty lost a no-confidence vote in the Pacific island's 18-member single-chamber parliament.
However parliament was deadlocked for months over the budget with the 18 MPs evenly divided.
To resolve the impasse Mr Stephens declared a state of emergency and dissolved parliament. His government went on to win a majority in snap elections in April 2008.
Mr Stephens is a former professional weightlifter and multiple Commonwealth Games medallist.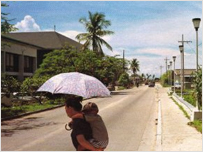 A section of the road that circumnavigates Nauru Island.
He was elected to parliament in 2003 and served as education and finance minister but stood down after Mr Scotty was re-elected to the presidency in 2004.
As president Nauru's constitution stipulates that Mr Stephens will be both head of state and head of government on the island.
Mr Scotty a seasoned player in Nauru's fluid politics was ousted once before in August 2003 and then re-elected less than a year later.
Media
Nauru has no daily news publication.
State-owned Radio Nauru carries material from Radio Australia and the BBC and Nauru TV broadcasts programmes from New Zealand sent via satellite or on videotape.
The press

Bulletin - weekly
Central Star News - fortnightly
The Nauru Chronicle
Television

Nauru Television (NTV) - government-owned
Radio



AFRICA | ASIA-PACIFIC | AMERICAS | EUROPE |  MIDDLEEAST |  SOUTHASIA






Mauritania Mauritius Morocco  Mozambique Namibia Niger Nigeria Republic-of-congo Rwanda Sao-tome-and-principe Senegal Seychelles Sierra-leone Somalia South-africa Sudan Swaziland Tanzania The-gambia Togo Tunisia Uganda Australia Brunei Burma Cambodia China East-timor Fiji Indonesia Japan Kazakhstan Kiribati Kyrgyzstan Laos Malaysia Marshall-islands Micronesia Mongolia Nauru New-zealand North-korea Palau Papua-new-guinea Samoa Singapore Solomon-islands South-korea Taiwan Tajikistan Thailand The-philippines Tonga Turkmenistan Tuvalu Uzbekistan Vanuatu Vietnam Antigua-and-barbuda Belize Bolivia  Brazil Canada Chile Colombia Costa-rica Cuba Dominica Dominican-republic Ecuador El-salvador Grenada Guatemala Guyana Haiti Honduras Jamaica Mexico Nicaragua St-kitts-and-nevis St-lucia Suriname Trinidad-and-tobago Uruguay Venezuela Albania Andorra Armenia Austria Azerbaijan Belarus Belgium Bosnia-hercegovina Bulgaria Croatia Cyprus Czech-republic Denmark Estonia Finland France Georgia Germany Greece Hungary Iceland Ireland Italy Latvia Liechtenstein Lithuania Luxembourg Macedonia Malta Moldova Monaco Montenegro Norway Poland Portugal Russia San-marino Serbia Slovakia Slovenia Spain Sweden Algeria Egypt Iran Iraq Israel-and-palestinian-territories Jordan Kuwait Lebanon Libya Mauritania Oman Saudi-arabia Sudan Syria Tunisia United-arab-emirates Yemen Afghanistan Bangladesh Bhutan India Nepal Pakistan Sri-Lanka The-Maldive