Country profile: Kazakhstan





The Kazakh government is pushing ahead with plans to build up the pharmaceuticals sector, in order to help diversify the economy and reduce dependence on hydrocarbons. To this end, they are aiming to have 50% of the domestic market by volume supplied through indigenous production by 2015, from 30% currently. Health-sector reforms and regulatory changes will play major roles in achieving this, although trade pacts with Russia and the WTO are potentially a problem. The main challenge will be to get domestic industry up to scratch. Although the state is willing to cover half the development costs, it is doubtful whether the country will attract sufficient private investment in a sector that might struggle to compete with its counterparts in Russia and China.

A huge country covering a territory equivalent to the whole of Western Europe Kazakhstan has vast mineral resources and enormous economic potential.
The varied landscape stretches from the mountainous heavily populated regions of the east to the sparsely populated energy-rich lowlands in the west and from the industrialised north with its Siberian climate and terrain through the arid empty steppes of the centre to the fertile south.
Overview
Ethnically the country is as diverse with the Kazakhs making up over half the population the Russians comprising just over a quarter and smaller minorities of Ukrainians Germans Chechens Kurds Koreans and Central Asian ethnic groups accounting for the rest.
These groups generally live in harmony though ethnic Russians resent the lack of dual citizenship and having to pass a Kazakh language test in order to work for government or state bodies. Since independence many ethnic Russians emigrated to Russia.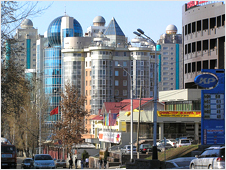 A photo of downtown Almaty, Kazahkstan
The dominant religion Islam which was suppressed under Communist rule has enjoyed something of a revival since the collapse of the Soviet Union.
Since independence there has been major foreign investment in the Caspian oil sector. Oil development has brought rapid economic growth although expansion slowed in 2009 as a result of the global financial crisis.
An oil pipeline linking the Tengiz oil field in western Kazakhstan to the Russian Black Sea port of Novorossiysk opened in 2001. In 2008 Kazakhstan began pumping some oil exports through the Baku-Tbilisi-Ceyhan pipeline as part of a drive to lessen its dependence on Russia as a transit country. A pipeline to China was opened in late 2005 with work on another starting in 2008.
Nevertheless poverty is still widespread and Kazakhstan continues to face major economic challenges particularly with unemployment and inflation. At the same time a small minority of Kazakhs grew very rich after independence through privatization and other business deals which opposition politician alleged to have been corrupt.
The people of Kazakhstan also have to live with the aftermath of Soviet-era nuclear testing and toxic waste dumping as well as with increasing drug addiction and a growing incidence of HIV/Aids. Inefficient irrigation projects have led to severe shrinkage of the heavily polluted Aral Sea.
Facts
Full name: Republic of Kazakhstan
Population: 15.6 million (UN 2009)
Capital: Astana
Largest city: Almaty
Area: 2.7 million sq km (1 million sq miles)
Major languages: Kazakh Russian
Major religions: Islam Christianity
Life expectancy: 59 years (men) 71 years (women) (UN)
Monetary unit: 1 Kazakh tenge = 100 tiyn
Main exports: Oil uranium ferrous and nonferrous metals machinery chemicals grain wool meat coal
GNI per capita: US $6140 (World Bank 2008)
Internet domain: .kz
International dialling code: +7
Leaders
President: Nursultan Abish-uly Nazarbayev
Elections in December 2005 returned Nursultan Nazarbayev for a further seven-year term with more than 90% of the votes.
The opposition protested that the ballot had been rigged and OSCE observers declared it to have been seriously flawed.
President Nazarbayev: Kazakhstan's leader for more than two decades
Mr Nazarbayev said the election had been fair and showed that people wanted evolution not revolution.
His grip on power was strengthened even further when parliament voted in 2007 to allow him to stay in office for an unlimited number of terms.
Born in 1940 Mr Nazarbayev came to power in 1989 as first secretary of the Communist Party of Kazakhstan and was elected president the following year. He was re-elected after the break-up of the Soviet Union in 1991.
His supporters say he preserved inter-ethnic accord and stability during the reform years.
Mr Nazarbayev has concentrated extensive powers in his own hands and is accused by the opposition of suppressing dissent. Although he says he advocates democracy as a long-term goal he warns that stability could be at risk if change is too swift.
A referendum in 1995 extended his term of office and in 1999 he was again elected president in elections from which his main rival was barred from standing on a technicality.
When Mr Nazarbayev does step down he will have a permanent seat on the defence council and a role as head of the people's assembly which unites members from different ethnic groups according to the law approved in the 2007 referendum.
The president merged his Otan party with his daughter Dariga's party Asar in July 2006. The move created a vast ruling coalition and was seen as consolidating the president's power. Otan was subsequently renamed Nur-Otan in honour of Mr Nazarbayev.
Media
Press freedom is enshrined in the constitution but monitors say the privately-owned and opposition media are subject to harassment and censorship.
In 2007 media rights body Reporters Without Borders said pressure on the media included prosecutions for "defaming" the president the closure of opposition newspapers and physical attacks on journalists.
Insulting the president and officials is a criminal offence; the private life health and financial affairs of the president are classified as state secrets.
The government controls the printing presses and most radio and TV transmission facilities. It operates the country's national radio and TV networks.
The president's close associates including his eldest daughter Dariga Nazarbayeva and son-in-law have benefitted from the privatisation of the former state media. Dariga heads the influential Khabar Agency which runs several TV channels.
The couple also controls the radio stations Europa Plus Russkoye Radio Hit FM and Radio Karavan along with the newspapers Karavan and Novoye Pokolenie.
There were 1.4 million internet users by March 2008 (ITU).
The press

Television

Radio

News agencies



AFRICA | ASIA-PACIFIC | AMERICAS | EUROPE |  MIDDLEEAST |  SOUTHASIA






Mauritania Mauritius Morocco  Mozambique Namibia Niger Nigeria Republic-of-congo Rwanda Sao-tome-and-principe Senegal Seychelles Sierra-leone Somalia South-africa Sudan Swaziland Tanzania The-gambia Togo Tunisia Uganda Australia Brunei Burma Cambodia China East-timor Fiji Indonesia Japan Kazakhstan Kiribati Kyrgyzstan Laos Malaysia Marshall-islands Micronesia Mongolia Nauru New-zealand North-korea Palau Papua-new-guinea Samoa Singapore Solomon-islands South-korea Taiwan Tajikistan Thailand The-philippines Tonga Turkmenistan Tuvalu Uzbekistan Vanuatu Vietnam Antigua-and-barbuda Belize Bolivia  Brazil Canada Chile Colombia Costa-rica Cuba Dominica Dominican-republic Ecuador El-salvador Grenada Guatemala Guyana Haiti Honduras Jamaica Mexico Nicaragua St-kitts-and-nevis St-lucia Suriname Trinidad-and-tobago Uruguay Venezuela Albania Andorra Armenia Austria Azerbaijan Belarus Belgium Bosnia-hercegovina Bulgaria Croatia Cyprus Czech-republic Denmark Estonia Finland France Georgia Germany Greece Hungary Iceland Ireland Italy Latvia Liechtenstein Lithuania Luxembourg Macedonia Malta Moldova Monaco Montenegro Norway Poland Portugal Russia San-marino Serbia Slovakia Slovenia Spain Sweden Algeria Egypt Iran Iraq Israel-and-palestinian-territories Jordan Kuwait Lebanon Libya Mauritania Oman Saudi-arabia Sudan Syria Tunisia United-arab-emirates Yemen Afghanistan Bangladesh Bhutan India Nepal Pakistan Sri-Lanka The-Maldive