Country profile:

Tonga



Organization of health services and delivery systems
The Ministry of Health works in four programme areas: (1) policy formulation and administration; (2) preventive health services; (3) curative health services; and (4) dental health services.

Government health services are provided free of charge and physical access to care is good for the majority of people, with the exception of small populations living on isolated islands. Primary curative care and preventive services are delivered through a system of 14 health centres and
34 maternal health clinics.
A group of more than 170 islands spread over an area of the South Pacific roughly the size of Japan Tonga is the last Polynesian monarchy.
A deeply conservative Christian country it is ruled by a king supported by hereditary noblemen who together have a perpetual majority in parliament electing or appointing 21 of its 30 members but moves are afoot to democratise the constitution.
A former British protectorate Tonga became fully independent in 1970 though it was never formally colonised.
Overview
Tonga has no strategic or mineral resources and relies on agriculture fishing and the money sent home by Tongans living abroad many of them in New Zealand. Unemployment is high particularly among the young.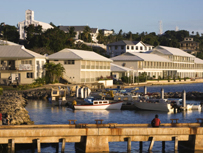 Port of Refuge harbour, Tonga
Endowed with tropical beaches rainforest and active volcanoes it has a developing tourist industry - its main source of hard currency.
Almost all Tongans are Polynesian and its population has remained largely untouched by immigration. This has made it ideal for genetic research into the causes of common diseases.
Although Tonga has a highly traditional society calls by young Western-educated Tongans for a more democratic constitution have become increasingly hard to ignore.
In November 2009 a constitutional review panel recommended a ceremonial monarchy stripped of most of its real political power and a fully-elected parliament in place of the current largely hereditary body. The king had previously indicated he was wholeheartedly committed to democratic reform.
A first tentative step towards reform was taken in early 2005 when elected MPs were appointed to the cabinet - previously handpicked from outside parliament - for the first time.
But demand for change became stronger. A public sector strike in 2005 marked by major street demonstrations expanded into a campaign for political reform. In November 2006 riots erupted in the capital in which eight people were killed.
Facts
Full name: Kingdom of Tonga
Population: 104,000 (UN 2009)
Capital: Nuku'alofa
Area: 748 sq km (289 sq miles)
Major languages: Tongan English
Major religion: Christianity
Life expectancy: 69 years (men) 75 years (women) (UN)
Monetary unit: 1 pa'anga = 100 seniti
Main exports: Fish pumpkins coconut products vanilla beans
GNI per capita: US $2,560 (World Bank 2008)
Internet domain: .to
International dialling code: +676
Leaders
Head of state: King George Tupou V
King George Tupou V was sworn in during a brief ceremony in September 2006 succeeding his father King Taufa'ahau Tupou IV when he died after a long illness. The new king's coronation took place in August 2008.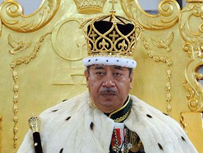 King George Tupou V says he is committed to reform
King Tupou says he is committed to economic development and democratic reform.
Following the pro-democracy riots in November 2006 the government agreed to hold elections in 2010 in which a majority of the parliament will be directly elected by a popular vote.
Tupou V owns some of Tonga's biggest businesses including the island's only power company a brewery and a mobile phone company. The palace says the king has started to divest himself of his commercial interests.
The King was educated in New Zealand Switzerland and Britain. A bachelor with no legitimate children he has named his younger brother as heir apparent. He is known for his liking for wearing military uniforms and for driving around in a London taxi.
Prime minister: Feleti Sevele
One of Tonga's few elected rather than appointed politicians and a long-standing advocate of more democracy Feleti Sevele was made the country's first non-noble prime minister after six months of public protests demanding a smaller role for the royal family in government.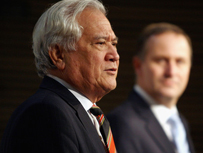 Feleti Sevele is Tonga's first non-noble prime minister
His predecessor 'Ulukalala Lavaka Ata was a member of the royal family.
An economist and mathematician by training Mr Sevele previously served as minister of trade and labour and negotiated Tonga's membership of the World Trade Organisation.
He said his appointment showed that the monarchy was ready to change. King Tupou V announced shortly after his coronation in August 2008 that he was transferring the day-to-day running of the government to Prime Minister Sevele ahead of the 2010 elections.
Media
State-owned radio and TV tend to favour government policies while private broadcasters offer little independent local coverage.
Some privately-owned newspapers do carry opposition views but journalists sometimes face harassment and threats of criminal charges.
Around 8,400 Tongans were online by March 2008 (ITU).
The press

Television

Radio



AFRICA | ASIA-PACIFIC | AMERICAS | EUROPE |  MIDDLEEAST |  SOUTHASIA






Mauritania Mauritius Morocco  Mozambique Namibia Niger Nigeria Republic-of-congo Rwanda Sao-tome-and-principe Senegal Seychelles Sierra-leone Somalia South-africa Sudan Swaziland Tanzania The-gambia Togo Tunisia Uganda Australia Brunei Burma Cambodia China East-timor Fiji Indonesia Japan Kazakhstan Kiribati Kyrgyzstan Laos Malaysia Marshall-islands Micronesia Mongolia Nauru New-zealand North-korea Palau Papua-new-guinea Samoa Singapore Solomon-islands South-korea Taiwan Tajikistan Thailand The-philippines Tonga Turkmenistan Tuvalu Uzbekistan Vanuatu Vietnam Antigua-and-barbuda Belize Bolivia  Brazil Canada Chile Colombia Costa-rica Cuba Dominica Dominican-republic Ecuador El-salvador Grenada Guatemala Guyana Haiti Honduras Jamaica Mexico Nicaragua St-kitts-and-nevis St-lucia Suriname Trinidad-and-tobago Uruguay Venezuela Albania Andorra Armenia Austria Azerbaijan Belarus Belgium Bosnia-hercegovina Bulgaria Croatia Cyprus Czech-republic Denmark Estonia Finland France Georgia Germany Greece Hungary Iceland Ireland Italy Latvia Liechtenstein Lithuania Luxembourg Macedonia Malta Moldova Monaco Montenegro Norway Poland Portugal Russia San-marino Serbia Slovakia Slovenia Spain Sweden Algeria Egypt Iran Iraq Israel-and-palestinian-territories Jordan Kuwait Lebanon Libya Mauritania Oman Saudi-arabia Sudan Syria Tunisia United-arab-emirates Yemen Afghanistan Bangladesh Bhutan India Nepal Pakistan Sri-Lanka The-Maldive