Country profile:

Costa-rica




For decades Costa Rica has stood out for its stability and has benefited from the most developed welfare system in the region.
It has no standing army and its citizens enjoy one of the highest life expectancy levels in the Western hemisphere and better living standards than their war-torn neighbours.
Overview
Traditionally dependent on coffee banana and beef exports Costa Rica has diversified its economy.
AT-A-GLANCE

COSTA RICA MANUFACTURING
Costa Rica is a growing destination for companies looking to improve efficiency and cut costs by moving operations out of the United States and into areas where wages are dramatically lower.
Politics: Elder statesman and nobel laureate Oscar Arias took office as president in 2006

Economy: One of Central America's most affluent countries; Costa Ricans voters narrowly approved a free trade deal with the US in 2007
The opening of a large computer chip plant in the late 1990s was a fillip to the economy but its fortunes have been subject to the fluctuating world demand for microchips.
Tourism is Costa Rica's main source of foreign exchange. Its tropical forests are home to a profusion of flora and fauna including 1000 species of orchid and 850 species of birds such as macaws and toucans.
The Caribbean coast with its swamps and sandy beaches is also a big draw. But Costa Rica is trying to shake off its reputation as a destination for sex tourists.
While relatively free of crime Costa Rica has been used as a transit point for South American cocaine and there have been allegations that drug-tainted money has found its way into the coffers of the two main political parties.
Once dubbed the "Switzerland of Central America" the country's self-image was badly shaken in 2004 when allegations of high-level corruption led to two former presidents being imprisoned on graft charges.
Facts
Full name: Republic of Costa Rica
Population: 4.6 million (UN 2009)
Capital: San Jose
Area: 51100 sq km (19730 sq miles)
Major languages: Spanish (official) English
Major religion: Christianity
Life expectancy: 76 years (men) 81 years (women) (UN)
Monetary unit: 1 Costa Rican colon = 100 centimos
Main exports: Coffee bananas sugar textiles electronic components electricity
GNI per capita: US$6060 (World Bank 2008)
Internet domain: .cr
International dialling code: +506
Leaders
President: Oscar Arias
Nobel laureate Oscar Arias defeated former minister Otton Solis in closely-fought presidential elections in February 2006 and took office in May. Mr Solis conceded after a manual count and a series of legal challenges.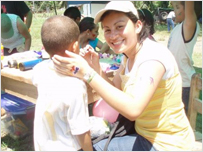 An OM team member works with kids in Costa Rica. During a medical mission trip in the indigenous region in Talamanca, OM Costa Rica organized a special evangelistic program for children.
Oscar Arias promised to stabilise the economy and to clamp down on corruption in government. He says he aims to put Costa Rica on course to become Latin America's most developed nation.
The president champions the ratification of a Central American free trade pact with the US. Costa Ricans are divided over the proposed accord.
Mr Arias was president from 1986-90 and won the Nobel Peace Prize in 1987 for his role in talks that helped to end two civil wars in the region.
In 2009 it was announced that he would be the lead mediator in efforts to resolve the political conflict in Honduras between ousted President Manuel Zelaya and the interim government installed after a military coup.
Born in 1940 he studied in Costa Rica and Britain. He is a divorcee and a father of two.
His predecessor Abel Pacheco of the conservative Social Christian Unity Party (PUSC) backed free market reforms. But he inherited a struggling economy and his privatisation and tax reform plans met with strong opposition.
Media
Costa Rica enjoys a vibrant media scene with nine major newspapers private and public TV stations and a busy FM radio dial. Cable TV is widely available.
Press freedom group Reporters Without Borders describes the country's media as "fairly free". Libel laws and a law which ensures the right of reply for individuals criticised in reports are in force.
The press

Television

Radio



AFRICA | ASIA-PACIFIC | AMERICAS | EUROPE |  MIDDLEEAST |  SOUTHASIA






Mauritania Mauritius Morocco  Mozambique Namibia Niger Nigeria Republic-of-congo Rwanda Sao-tome-and-principe Senegal Seychelles Sierra-leone Somalia South-africa Sudan Swaziland Tanzania The-gambia Togo Tunisia Uganda Australia Brunei Burma Cambodia China East-timor Fiji Indonesia Japan Kazakhstan Kiribati Kyrgyzstan Laos Malaysia Marshall-islands Micronesia Mongolia Nauru New-zealand North-korea Palau Papua-new-guinea Samoa Singapore Solomon-islands South-korea Taiwan Tajikistan Thailand The-philippines Tonga Turkmenistan Tuvalu Uzbekistan Vanuatu Vietnam Antigua-and-barbuda Belize Bolivia  Brazil Canada Chile Colombia Costa-rica Cuba Dominica Dominican-republic Ecuador El-salvador Grenada Guatemala Guyana Haiti Honduras Jamaica Mexico Nicaragua St-kitts-and-nevis St-lucia Suriname Trinidad-and-tobago Uruguay Venezuela Albania Andorra Armenia Austria Azerbaijan Belarus Belgium Bosnia-hercegovina Bulgaria Croatia Cyprus Czech-republic Denmark Estonia Finland France Georgia Germany Greece Hungary Iceland Ireland Italy Latvia Liechtenstein Lithuania Luxembourg Macedonia Malta Moldova Monaco Montenegro Norway Poland Portugal Russia San-marino Serbia Slovakia Slovenia Spain Sweden Algeria Egypt Iran Iraq Israel-and-palestinian-territories Jordan Kuwait Lebanon Libya Mauritania Oman Saudi-arabia Sudan Syria Tunisia United-arab-emirates Yemen Afghanistan Bangladesh Bhutan India Nepal Pakistan Sri-Lanka The-Maldive