Country profile: Palau





MEDICAL FACILITIES AND HEALTH INFORMATION: Health facilities in Palau are adequate for routine medical care, but the availability and quality of services are limited. Serious medical conditions requiring hospitalization or evacuation to the United States or elsewhere may cost tens of thousands of dollars.

The Republic of Palau has a well-run public health system despite being a small, relatively isolated island country with limited resources and limited funds. Using interviews with key informants, participant observation in clinics throughout Palau, and a review of available reports, we identified themes locally regarded as central to the success of Palau's public health programs.
These include a comprehensive definition of "health," a sense
of community-ownership, creative efforts to identify effective behavioral modification techniques, efforts to improve internal training and infrastructure, quality assurance, the importance of leading by example, and a general willingness to collaborate and compromise. We suggest that recognition and application
of these concepts would improve not only the public health systems and primary care settings of other Micronesian nations,
but also help correct the increasingly dysfunctional healthcare
of the United States.
More than 200 volcanic and coral islands  many of them surrounded by a single barrier reef  make up the northern Pacific nation of Palau.
Its tropical waters are home to an abundance of marine life  making Palau a paradise for divers.
The scenery ranges from white sandy beaches to dense jungle. Palau tries to protect its wildlife from hunters and poachers. It favours sustainable tourism.
Overview
Palau became independent in 1994  after being part of a United Nations trust territory administered by the US for 47 years.
AT-A-GLANCE

Politics: Became independent in 1994 after being run by the US

Economics: Heavily dependent on US aid. Some tourism. Fishing by foreign fleets contributes to national income.

International: One of few countries to recognise Taiwan
It relies on financial aid from the US  provided under a Compact of Free Association which gives the US responsibility for Palau's defence and the right to maintain military bases there. Direct aid is set to wind up in 2009.
Tourism is low key  though growing in economic importance. Many visitors come from Taiwan  with which Palau has diplomatic ties. Taiwanese aid boosts the economy. The government is Palau's largest employer.
Monoliths and other relics are reminders of an ancient culture that thrived on the islands  but Palau's recent history has been dominated by outside influences - from Spain  Britain  Germany  Japan and the US. Palau saw some of the region's fiercest fighting in World War II.
Though embracing some Western trappings  many Palauans identify with their traditional culture and its codes and rites.
Politics in Palau sometimes has been lively; the nation's first president was assassinated in 1985.
Facts
Full name: Republic of Palau
Population: 20 000 (UN  2009)
Capital: Melekeok
Largest town: Koror
Area: 508 sq km (196 sq miles)
Major languages: Palauan  English
Major religions: Christianity  Modekngei (indigenous belief)
Life expectancy: 66 years (men)  72 years (women) (UN)
Monetary unit: 1 US dollar = 100 cents
Main exports: Fish  garments
GNI per capita: US $8 650 (World Bank  2008)
Internet domain: .pw
International dialling code: +680
Leaders
President: Johnson Toribiong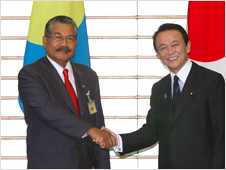 Johnson Toribiong
Mr Toribiong was elected in the presidential poll of November 2008  beating outgoing Vice-President Elias Camsek Chin. The previous president  Tommy Remengesau  had served his maximum two consecutive terms and could not run again.
A US-educated lawyer  Mr Toribiong served as ambassador to Taiwan before standing for president.
Like his predecessor  President Toribiong has said Palau must end its dependence on US aid and diversify its economy beyond tourism. He was inaugurated on 15 January 2009.
Media
The press
Tia Belau - English-language weekly
Palau Horizon - English-language weekly
Roureur Belau - Palauan weekly
Television
There are no television stations based in Palau  but most households are hooked up to cable TV  which rebroadcasts US and satellite TV channels.
Radio


AFRICA | ASIA-PACIFIC | AMERICAS | EUROPE |  MIDDLEEAST |  SOUTHASIA






Mauritania Mauritius Morocco  Mozambique Namibia Niger Nigeria Republic-of-congo Rwanda Sao-tome-and-principe Senegal Seychelles Sierra-leone Somalia South-africa Sudan Swaziland Tanzania The-gambia Togo Tunisia Uganda Australia Brunei Burma Cambodia China East-timor Fiji Indonesia Japan Kazakhstan Kiribati Kyrgyzstan Laos Malaysia Marshall-islands Micronesia Mongolia Nauru New-zealand North-korea Palau Papua-new-guinea Samoa Singapore Solomon-islands South-korea Taiwan Tajikistan Thailand The-philippines Tonga Turkmenistan Tuvalu Uzbekistan Vanuatu Vietnam Antigua-and-barbuda Belize Bolivia  Brazil Canada Chile Colombia Costa-rica Cuba Dominica Dominican-republic Ecuador El-salvador Grenada Guatemala Guyana Haiti Honduras Jamaica Mexico Nicaragua St-kitts-and-nevis St-lucia Suriname Trinidad-and-tobago Uruguay Venezuela Albania Andorra Armenia Austria Azerbaijan Belarus Belgium Bosnia-hercegovina Bulgaria Croatia Cyprus Czech-republic Denmark Estonia Finland France Georgia Germany Greece Hungary Iceland Ireland Italy Latvia Liechtenstein Lithuania Luxembourg Macedonia Malta Moldova Monaco Montenegro Norway Poland Portugal Russia San-marino Serbia Slovakia Slovenia Spain Sweden Algeria Egypt Iran Iraq Israel-and-palestinian-territories Jordan Kuwait Lebanon Libya Mauritania Oman Saudi-arabia Sudan Syria Tunisia United-arab-emirates Yemen Afghanistan Bangladesh Bhutan India Nepal Pakistan Sri-Lanka The-Maldive