Country profile:

Venezuela





Venezuela Pharmaceuticals and Healthcare Report provides independent forecasts and competitive intelligence on Venezuela's pharmaceuticals and healthcare industry.
Despite a challenging operating environment, Venezuela's pharmaceutical market remains on multinational drugmakers' radars on account of its size. Estimates that the drug market (over-the-counter and prescription) is worth VEB4.6bn (US$2.1bn).

Venezuela has some of the world's largest proven oil deposits as well as huge quantities of coal iron ore bauxite and gold.
Yet most Venezuelans live in poverty many of them in shanty towns some of which sprawl over the
hillsides around the capital Caracas.
Venezuela's president Hugo Chavez says he is leading the country - which is enjoying a windfall from high oil prices - through a socialist revolution.
Overview
A country of striking natural beauty which ranges from the snow-capped Andean peaks in the west through the Amazonian jungles in the south to the beaches of the north Venezuela is among the most highly urbanised countries in Latin America.
AT-A-GLANCE

Venezuela Medical Program: A Decade of Light and Hope
Politics: President Hugo Chavez leads a self-styled socialist revolution but polarises domestic opinion

Economy: Venezuela is a major oil producer; export revenues fund huge social programmes

International: Mr Chavez is a strident critic of Washington; the US portrays him as a security threat. Critics say he is using fuel sales under preferential terms to extend political influence in the region
Its economic fortunes are tied to world oil prices. A 1970s boom largely benefited the middle classes but a subsequent price collapse condemned many of this class to poverty while eroding the living standards of the already impoverished.
Unemployment is high and according to official figures around 60% of households are poor.
In 1998 Venezuelans broke the stranglehold of the discredited party system to elect the populist left-winger Hugo Chavez a former army officer who has proclaimed a "Bolivarian revolution" named after South America's independence hero.
Radical reform political unrest and deep divisions have characterised the president's term in office. His supporters - known as "chavistas" - and his detractors have staged street protests.
Venezuela under Mr Chavez has sought to strengthen its regional influence through diplomatic and economic overtures towards other South American and Caribbean nations.
This has been seen in part as an effort to counter Washington's influence in the region and has been a contributory factor in strained relations with US allies such as Colombia.
Relations with Bogota hit a new low in 2009 after the Colombian government agreed to closer military ties with the US.
Facts
Full name: Bolivarian Republic of Venezuela
Population: 28.6 million (UN 2009)
Capital: Caracas
Area: 881050 sq km (340561 sq miles)
Major languages: Spanish indigenous languages
Major religion: Christianity
Life expectancy: 71 years (men) 77 years (women) (UN)
Monetary unit: 1 bolivar = 100 centimos
Main exports: Petroleum bauxite and aluminium steel chemicals agricultural products basic manufactures
GNI per capita: US $9230 (World Bank 2008)
Internet domain: .ve
International dialling code: +58
Leaders
President: Hugo Chavez
Hugo Chavez who has survived a coup protests strikes and a referendum on his rule since coming to power in 1998 is the subject of both adulation and loathing among his divided electorate.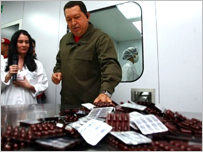 President Hugo Chavez in the new pharmaceutical production center on Sunday (Prensa Presidencial)
The president who says he wants to create a new form of socialism has pursued populist policies aimed at helping the poor. The programmes include free health care subsidised food and land reform.
Critics have accused Mr Chavez of trying to emulate Cuba's communist system and of increasing state intervention in business.
Mr Chavez came to prominence when he led a failed coup in 1992. After a spell in prison he embarked on a political career that swept him to power in a landslide election victory in 1998.
The charismatic president often continued to wear his paratrooper's red beret. He delighted the poor but infuriated the rich and the powerful news media with his rambling speeches that denounced the wealthy elite.
As Mr Chavez grew more powerful his critics said he was leading Venezuela towards a Cuban-style authoritarian government. He was criticised for courting countries which attracted US or international disapproval namely Cuba Saddam Hussein's Iraq and Libya.
He was forced out of office by the military in April 2002 only to be reinstated within 48 hours after a post-coup government collapsed in the face of a rebellion by loyalist troops and massive protests.
Opposition pressure intensified in 2002 and 2003 with more protests a prolonged general strike and an unsuccessful attempt to petition for a referendum on the president's rule.
On the strength of a second petition handed in by his opponents Mr Chavez faced a referendum on his rule on 15 August 2004 from which he emerged victorious. He won a third term in elections in December 2006.
In early 2007 he was granted sweeping powers to rule by decree for the next 18 months. The National Assembly which has been boycotted by the opposition unanimously passed the law.
Mr Chavez was expected to use his new powers to nationalise key sectors of the economy assert more control over the oil industry and to raise taxes on the rich. His opponents say the law is an abuse of power.
Mr Chavez suffered his first electoral defeat in December 2007 when voters in a referendum narrowly rejected proposals to extend his powers and accelerate his socialist revolution.
However Venezuelans backed the president by voting to abolish term limits in a February 2009 referendum clearing the way for Mr Chavez to run for re-election in 2012.
Media
Media watchdogs have been highly critical of the behaviour of the Venezuelan media and of President Chavez's attitudes towards broadcasters and the press.
"Hello President": Hugo Chavez takes to the air every week
The president has been accused of creating a hostile intimidatory climate for journalists while some private media outlets have been criticised for being involved in the opposition movement against him.
In 2007 he came under fire from media rights groups over the decision not to renew the terrestrial broadcasting licence of RCTV Venezuela's oldest private TV station. Mr Chavez accused the network of backing the 2002 coup.
A controversial media law came into effect in 2005. Officials said it would improve standards by banning the inappropriate airing of scenes of sex and violence. But critics of the bill which also prohibits material deemed to harm national security said it was an attempt to silence media criticism.
Venezuela's many private broadcasters operate alongside state-run radio and TV channels. President Chavez has his own weekly TV and radio programme on the government-run networks.
The country is the main shareholder in Telesur a Caracas-based pan-American TV channel which according to its chairman aims to present Latin America's vision of itself to the world. The governments with a stake in the venture are all left wing or left of centre.
Venezuela launched its first telecommunications satellite - Venesat 1 - at the end of 2008.
Just under 25% of Venezuelans use the internet (Internetworldstats.com June 2008).
The press

Television

Radio

News agency

AFRICA | ASIA-PACIFIC | AMERICAS | EUROPE |  MIDDLEEAST |  SOUTHASIA






Mauritania Mauritius Morocco  Mozambique Namibia Niger Nigeria Republic-of-congo Rwanda Sao-tome-and-principe Senegal Seychelles Sierra-leone Somalia South-africa Sudan Swaziland Tanzania The-gambia Togo Tunisia Uganda Australia Brunei Burma Cambodia China East-timor Fiji Indonesia Japan Kazakhstan Kiribati Kyrgyzstan Laos Malaysia Marshall-islands Micronesia Mongolia Nauru New-zealand North-korea Palau Papua-new-guinea Samoa Singapore Solomon-islands South-korea Taiwan Tajikistan Thailand The-philippines Tonga Turkmenistan Tuvalu Uzbekistan Vanuatu Vietnam Antigua-and-barbuda Belize Bolivia  Brazil Canada Chile Colombia Costa-rica Cuba Dominica Dominican-republic Ecuador El-salvador Grenada Guatemala Guyana Haiti Honduras Jamaica Mexico Nicaragua St-kitts-and-nevis St-lucia Suriname Trinidad-and-tobago Uruguay Venezuela Albania Andorra Armenia Austria Azerbaijan Belarus Belgium Bosnia-hercegovina Bulgaria Croatia Cyprus Czech-republic Denmark Estonia Finland France Georgia Germany Greece Hungary Iceland Ireland Italy Latvia Liechtenstein Lithuania Luxembourg Macedonia Malta Moldova Monaco Montenegro Norway Poland Portugal Russia San-marino Serbia Slovakia Slovenia Spain Sweden Algeria Egypt Iran Iraq Israel-and-palestinian-territories Jordan Kuwait Lebanon Libya Mauritania Oman Saudi-arabia Sudan Syria Tunisia United-arab-emirates Yemen Afghanistan Bangladesh Bhutan India Nepal Pakistan Sri-Lanka The-Maldive